The Eco at Home shop is in Willoughby, Sydney, on the east side of Willoughby Road, just a few doors down from Frenchs Road.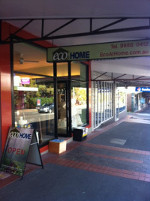 Opening times
Monday - Closed
Tuesday to Saturday - 10am to 4pm
Sunday - Closed
Address: 507 Willoughby Road, Willoughby, NSW. 2068.
Tel: 02 9958 0412
Bus numbers 272, 273 and 257 and 340 (previously the M40 - the Red bus from Bondi to Chatswood) travel past the door. Heading north the nearest stop is at Julian Street, heading south it is at Frenchs Road.
Parking is available in the street after 10am, or just around the corner in Frenchs Road, or in council car parks behind the shops opposite (accessed via Borlaise Steet).