The White Magic Microfibre Spin Mop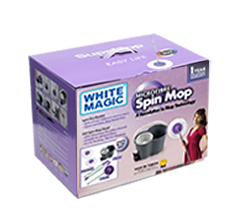 The Microfibre Spin mop is a great quality choice for cleaning your home. Its microfibre head means that you shouldn't need to use chemicals to pick up dirt and dust. Scroll down to read more or watch a demonstration video!
Its fantastic features include:
The mop head rotates 360 degrees, and the handle pivots 180 degrees, meaning you can get into all tight corners and under furniture

You can use it wet or dry, thanks to the innovative microfibre head (containing 8000 microfibre strands), which can capture dust and dirt in the tight weave of the fibres without floor cleaning liquids

The mop comes with a pedal operated mop spinner (incorporated into a bucket) which spins at over 2600 revolutions per minute! This means you can dry the mop easily, so your floors won't be left wet and slippery! It also means you dont have to get your hands dirty trying to wring out the mop!

On average 6 pedal presses will dry the mop; you have complete control over the amount of water you use!

Comfortable, ergonomic grips

The mop heads are machine washable up to 100 times!
Try the Microfibre spin mop for cleaning:
tiled floors

wooden floors

concrete floors

linoleum

glass & windows

Cars
How it Works: